Are you an entrepreneur or small business owner with disabilities?
U.S. Small Business Administration Awards National Disability Institute a Community Navigator Pilot Program Grant
For too long, entrepreneurs and small business owners with disabilities have been underserved and an invisible part of the small business community. This SBA funding to a consortium of diverse, trusted culturally-knowledgeable partners in the disability, Black and Latinx communities, in collaboration with preferred SBA lenders and city, county and state economic development agencies, will have a substantial impact on the economy. —Thomas Foley, Executive Director, National Disability Institute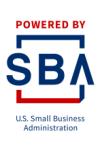 Funded (in part) through a Grant with the U.S. Small Business Administration. All opinions, conclusions, and/or recommendations expressed herein are those of the author(s) and do not necessarily reflect the views of the SBA.