Are you an entrepreneur or small business owner with disabilities in the greater DC area?
You have questions. We have answers.
The US Small Business Administration (SBA) has funded National Disability Institute (NDI), in cooperation with 2Gether-International's small business accelerator, to implement a Community Navigator Pilot Project (CNPP). An exciting, new group of over 10 government agencies, financial institutions, community nonprofit organizations and SBA-funded resource centers in the greater DC area including Northern Virginia and Prince George's and Montgomery Counties have made a commitment to work together to make available resources and improve responsive, customer-sensitive services for entrepreneurs and small business owners with disabilities for the greater DC area.
Learn More
Learn more about the DC-Area Community Navigator Pilot Project and its partnerships that support small business owners. A full website with more information is coming soon.
Request Information
To be included in future training opportunities, one-on-one counseling, peer support or mentoring opportunities, please fill out our information form. 
U.S. Small Business Administration Awards National Disability Institute a Community Navigator Pilot Program Grant for Greater Washington, D.C Area
For too long, entrepreneurs and small business owners with disabilities have been underserved and an invisible part of the small business community. This SBA funding to a consortium of diverse, trusted culturally-knowledgeable partners in the disability, Black and Latinx communities, in collaboration with preferred SBA lenders and city, county and state economic development agencies, will have a substantial impact on the economy of the greater DC area. —Thomas Foley, Executive Director, National Disability Institute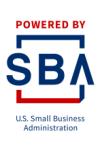 Funded (in part) through a Grant with the U.S. Small Business Administration. All opinions, conclusions, and/or recommendations expressed herein are those of the author(s) and do not necessarily reflect the views of the SBA.