By Elizabeth Jennings, Deputy Director, National Disability Institute
A few years ago, I shared my challenges with anxiety and panic attacks.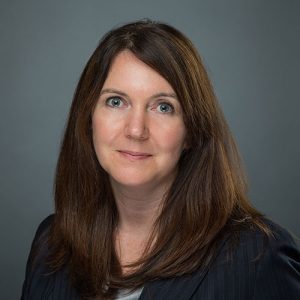 "A wave of heat washes over me, starting at my head and covering my whole body – as if red ants have bitten me from head to toe. My heart is racing. My body shakes uncontrollably. My mind turns on me, spinning through negative thoughts like a spin top that's gotten away from me causing me to sob and feel overwhelmed with fear. I'm having a panic attack. At age 41, I've had thousands of them (literally) lasting from a few minutes to over an hour."
Since around age nine, feelings of fear and despair have overtaken my mind and body. Coming out of nowhere, often in the quiet of the night, these feelings wreak havoc on my life. Panic attacks and anxiety rob me of my sleep and focus. They test my hope that the next minutes and days and weeks and years will be okay. They break my confidence that I can handle whatever is put before me. In my personal life I need, from both myself and others, understanding and flexibility to manage my anxiety and to adjust when panic attacks strike. At work, understanding and flexibility isn't always enough – I need accommodations.
This month, National Disability Employment Awareness Month (NDEAM), gave me a chance to reflect on the power of accommodations and what they have meant in my professional career. Twelve years ago, I received an offer to work for National Disability Institute (NDI). I was thrilled at the idea that I could work for a national organization on what had become my mission, the empowerment of people with disabilities. As Michael Morris, NDI's Executive Director, shared his plans for my work at NDI, my bright eyes toward the future turned to eyes filled with tears. My role at NDI would include extensive nationwide travel. At the time my anxiety and panic attacks were frequent – usually four or more days a week – coupled with an intense fear of flying. All I could think was, "There's no way I can fly. How on earth can I possibly do this job?"
I called my mentor, Barbara Butz, for her sage advice. I recall the conversation as if it was yesterday. As I was driving down a Florida highway, talking to Barb on speakerphone, tears of shame and disappointment streamed down my face. I was inconsolable at the fact that I would have to pass on working for NDI because of my anxiety disorder. She pointed out three important things to me that day: #1 – I had earned a great job and opportunity to make a positive contribution to the disability field; #2 – I had no reason to be ashamed of my anxiety – in fact, I should be proud at how much I had to push through the fear to live a full life; and #3 – I could tell NDI about my anxiety and see if there was other work for me.
I used every ounce of courage I had to tell NDI about my anxiety and my inability to fly. Without skipping a beat, NDI modified my work scope to meet my needs. I am proud to say I took the job and, in the years since, have thrived at NDI. Thanks to persistent work on addressing my flight anxiety, I have had the opportunity to travel to all but 10 states providing training and technical assistance on behalf of NDI. And, for the past 12 years, I have had the distinct privilege and pleasure of working for NDI and supporting its mission of improved employment and economic advancement of people with disabilities.
My story could end here. But there's more to my success at NDI than a modified work scope. NDI has provided numerous accommodations to me over the years for both my anxiety and a degenerative spine condition. The most critical is a flexible work schedule. I get panic attacks randomly – typically the night before a flight – but more often than not there is no obvious impetus. When this happens, I have to send emails to the NDI leadership and necessary staff – often in the wee hours of the night – to share that anxiety and panic attacks have kept me up most of the night and I will be in late or need to reschedule meetings. Every time, it's still a hard email to send. Not because my colleagues at NDI aren't wonderful in accommodating me, but because it's new proof that I haven't beaten this monster – yet. That try as I might, most likely I will be challenged by anxiety and panic for the rest of my life and will continue to need very simple accommodations to be my best at work.
Accommodations are generally inexpensive. The average cost is less than $500; most cost nothing. That certainly has been true of my needs. However, while most are inexpensive, they are powerful. The power of the accommodations I receive go beyond getting the task in front of me done. Each effort to support me – especially when my anxiety is high – lets me know that I am not defined by my mental health. That even when I can't see past the panic, my colleagues see me and believe that I can handle whatever is coming next. Each accommodation is a reminder that I am valued and accepted at work. And that has given me the foundation to succeed.
To get free assistance on making and meeting job accommodation requests, connect with the Job Accommodation Network (JAN) or the ADA National Network.
Elizabeth Jennings, M.A.P.P., is the Deputy Director of National Disability Institute. Ms. Jennings has 20 years of experience managing grants and contracts and providing training and technical assistance to a range of service providers as well as youth and adults with disabilities and their informal supports. She is skilled in multi-modal training and technical assistance with an eye on customizing materials and approach to meet the learner where they are towards increased knowledge gains and capacity building.
Ms. Jennings is recognized nationally for her knowledge on financial literacy education activities and strategies that improve the economic advancement of people with disabilities and the interplay of those strategies with Social Security disability benefits, including applicable work incentives and other SSA tools to mitigate barriers to full participation.
Ms. Jennings earned her Master of Applied Positive Psychology from the University of Pennsylvania and is crafting new material to address the internal barriers that job seekers face and positive interventions that support both service provides and their customers to improve the well-being of the disability community at-large.