By Elizabeth Jennings, Deputy Director, National Disability Institute
There's a new(ish) term when discussing mental health – LANGUISHING. When you say the word, it hangs on your tongue and lips giving you the feeling that its definition will indicate that it's something that takes quite a while to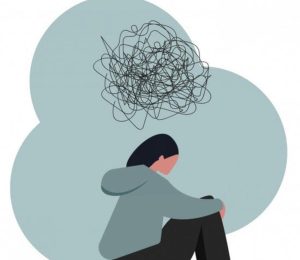 happen or complete. And roughly…. that's correct!
Languishing is the decline of your well-being to the point that you feel empty or stagnant, but not so far down the scale of low feelings that you are depressed. It's a feeling many of us have unwantedly become very familiar with during the pandemic. Languishing is that lackluster feeling that makes us want to work less, decline invitations to get out into the world, disconnect from social supports and feel like we just don't want to do anything – even when we have the energy and interest. Have you felt it lately? I know I have!
When we are faced with uncomfortable feelings, like those typical of languishing, we may want to hide away from the world and just check out. Not because we don't want to fight back, but because we often are not sure just how to do that. In celebration of Mental Health Awareness Month, let's explore one helpful tool – optimism.
Optimism is hopefulness about the future. The confidence and expectation that things will turn out well. Optimism is not a personality trait, it's a mindset. Being optimistic does not mean that you are blind to the challenges that surround you. It's not a mandate to be positive all the time or "only look on the bright side of your life." Rather, optimism is a tool to improve your mental health, your physical health and your outcomes.
We are not all naturally optimistic and that's okay. There are times when a little pessimism can protect us. But when it comes to languishing, an optimistic mindset is a tool you can use. People with high optimism expect positive things to happen. They see opportunities rather than threats. Rather than being passive, they assess situations to see what they can control and what must be accepted. They avoid ruminating by focusing on solutions. They take purposeful action. And, importantly, they reach out for help and support.
So how do you build your optimism? Let's take a situation that you are currently struggling with and apply a few questions to help you switch to a more optimistic mindset. Do you have the situation in your mind? It can be even more helpful to write it down or do this exercise with a friend or support. Ask yourself one or more of the questions below:
Was there a time in the past where something similar happened and it was okay?
What if everything goes right?
What are the parts of this that are giving you hope?
How have you been able to connect with someone or something in spite of this incident?
What here is within your control?
What are the options you have?
What's one step you can take today?
How can you take action on the one step you identified?
Can you imagine a silver living that may result from this incident?
What can you do to recharge so you're giving from your overflow?
Who in your life can you reach out to for support?
Optimism is not a magic pill. You won't ask yourself these questions and magically be back to your pre-pandemic self. However, you will start to see changes in your thinking style. You can help yourself move from feeling like there's no hope, to realizing that you have the power to make small changes. Each time you shift your thinking from believing that there is nothing you can do to make things better, to identifying how you can take even one step forward, you will give yourself a boost of positive emotion. Those boosts build on each other to move you up the well-being scale from feeling low to feeling a bit higher each day.
I know that you can use proven well-being tools to manage really hard moments in time. If you need more ideas, you can re-visit my blog from last year on how I used well-being tools to manage cancer and COVID.
Or sign up for NDI's #ResilientPwD text campaign, which was created to help people with disabilities and chronic health conditions, though the campaign is open to anyone. By signing up, you will receive helpful information and tips by text message to build positive thinking and financial resilience every Tuesday and Friday. The texts are intended to help combat stress and feelings of isolation, build positive thinking and establish new behavior patterns that promote emotional well-being and financial resilience. You can join by using the sign-up sheet found on NDI's website or by texting "RESILIENT" to 833-632-0273.
We are all feeling the weight of so much loss of control and health and security. Don't go it alone. If you need extra help, call 1-800-273-TALK (8255) to reach Mental Health America's 24-hour crisis center, or text MHA to 741741 at the Crisis Text Line.
Elizabeth Jennings, M.A.P.P., is the Deputy Director of National Disability Institute. Ms. Jennings has 20 years of experience managing grants and contracts and providing training and technical assistance to a range of service providers as well as youth and adults with disabilities and their informal supports. She is skilled in multi-modal training and technical assistance with an eye on customizing materials and approach to meet the learner where they are towards increased knowledge gains and capacity building.
Ms. Jennings is recognized nationally for her knowledge on financial literacy education activities and strategies that improve the economic advancement of people with disabilities and the interplay of those strategies with Social Security disability benefits, including applicable work incentives and other SSA tools to mitigate barriers to full participation.
Ms. Jennings earned her Master of Applied Positive Psychology from the University of Pennsylvania and is crafting new material to address the internal barriers that job seekers face and positive interventions that support both service providers and their customers to improve the well-being of the disability community at-large.