By Tom Foley, Executive Director, National Disability Institute
When I think about Financial Capability Month, I automatically think about the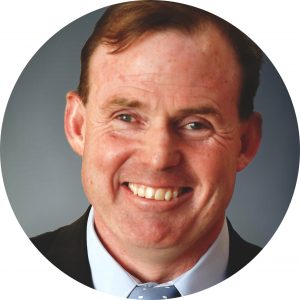 Financial Inclusion movement. For generations, people with disabilities have been excluded from many aspects of civil society and, particularly, the critical issue of financial and economic inclusion. Any type of exclusion can rob individuals, families and communities of potential. Fortunately, things are truly beginning to change. People, organizations and institutions are beginning to realize that it's just as easy to be inclusive as exclusive and we are beginning to see the results.
I recently caught up with a few old friends. These are folks I've known for quite a long time, people whose paths crossed when we were in our late teens and very early 20s, all people with disabilities who were on Supplemental Security Income (SSI) at the time, and all of whom have moved on to build quite the financial futures for themselves and their families.
The group includes a single mom who owns her own home and is planning to use her tech stock options to put her tween through college; the guy who just bought his first investment property; another single mom who bought a small ranch because it is what she and her three kids have always wanted; and the compliance officer with a fully vested and funded retirement account – stories rarely told of people with disabilities who are financially successful and living the American Dream.
Every day, more and more people with disabilities are taking steps to build a better economic future. Whether that starts with building the financial habits to be successful over the long-term, beginning to safely save money for your future, buying a home or joining or returning to the workforce, National Disability Institute (NDI) has programs, information and tools to help you make the most informed decisions.
I remember taking my first financial literacy class as a high school sophomore. Back then, we called it "consumer economics," but it covered many of the same topics. The difference between earning and paying interest, the difference between debt tied to the acquisition of an appreciating asset and debt that doesn't improve one's financial situation, a bank account, a good credit score and the importance of paying bills on time. Many of these lessons continue to be keystone elements of what we call "financial capability" today. When I first started learning about these key financial areas, one of my only channels for information came from popular personal finance magazines that I would listen to on flexible plastic records on a special record player. This was the 1980s, long before the popularization of the Internet; imagine the blind kid, often over caffeinated, trying to very, very gently bump the needle back a few millimeters to reread the last paragraph.
Thankfully, access to financial materials is much easier today. NDI's Financial Resilience Center (FRC) is an online information hub to help people with disabilities and chronic health conditions build their financial resilience and navigate through difficult times. This website provides you with trusted answers to your questions, including assistance to help you manage your finances. NDI 's Financial Wellness Tools webpage has financial education handouts, quick reference guides, trainings and other great NDI resources to help build financial skills and knowledge.
Another critical aspect of financial capability is having a safe and secure place to save money. For generations, people with disabilities who receive federal benefits have been prevented from saving for their futures by the regressive $2,000 asset limit for SSI and SSI-linked Medicaid.
I'll never forget saving for the purchase of my first house. I was on SSI and was working part-time and managing to save a little something from each paycheck. Unfortunately, given the times, I could not save that money in a bank account. I vividly remember the fear of crossing town on the way to deposit my all cash down payment. Fortunately, today, for some people with disabilities, there is a great alternative. ABLE accounts allow many people with disabilities the opportunity to save and invest in a tax-advantaged account, without putting federal benefits like SSI or Medicaid at risk. Accounts allow people to save up to $100,000 and still receive their SSI payments and save even more and still receive their full scope Medicaid. Even for people with disabilities not on federal benefits, ABLE accounts provide a flexible tax-advantaged savings vehicle worth exploring. People with disabilities have opened more than 100,000 ABLE accounts and saved more than one billion dollars so far. NDI's ABLE National Resource Center (ABLE NRC) is the leading source of objective, independent information and best practices related to tax-advantaged ABLE savings accounts and federal and state-related ABLE programs and activities. If you want to safely save for the future, and maybe even start learning about investing, visit the ABLE NRC website and find the best program to meet your needs.
Employment is a cornerstone to financial and economic inclusion. Even starting a part-time job can lead to substantially better financial outcomes. Often, that part-time job can turn into a full-time job, which then becomes a long-term career! NDI's American Dream Employment Network (ADEN), provides services that lead to the long-term financial stability of each participant. In fact, 65 percent of ADEN participants are employed with an average hourly wage of $18.11; the average time for ADEN participants to start receiving services until they start a job is three months. ADEN provides career counseling, job search support, Social Security benefits and work incentive advisement by certified personnel, as well as financial management resources and connection to employers hiring qualified candidates with a disability. If you or someone you know are currently receiving Social Security Disability Insurance (SSDI) or SSI benefits and interested in working, contact ADEN by calling 844-687-2336 to talk to an ADEN staff member or email info@AmericanDreamEN.org.
When I think back to that high school financial literacy class, I realize there were two important lessons I learned. First, that there were many decisions I could and would need to make that would directly affect my long-term financial future. I was in charge of those decisions and I was also in charge of learning as much as I could, to make the best decisions to benefit my situation. The second and equally important thing that I learned is that even the blind kid from the South Side of Chicago could, not only have financial and economic dreams, but could have financial and economic goals!
Join us today, at NDI, to ensure that all people with disabilities have the financial and economic opportunities to match their ambitions, talents and potential!
National Disability Institute's programs and projects changes lives. But we can't do this work without you! Every gift you make to NDI goes directly towards initiatives designed to help people with disabilities and their families. DONATE TODAY!
About Tom Foley
Trained as a tax lawyer and financial planner, Mr. Foley has more than 30 years' experience serving the disability community by working toward greater economic inclusion. As a person who is blind, Mr. Foley has been an advocate and dedicated his career to partnering with other thought leaders to address the complex drivers of economic inequality and create pathways to employment and financial security for the most vulnerable communities. In addition, he has been instrumental in developing and influencing federal and state legislation to encourage employment and increase participation of people with disabilities in employment and wealth-building programs. He is the author of EQUITY, the first asset building book for people with disabilities. Mr. Foley has worked closely with the Consumer Financial Protection Bureau, Federal Deposit Insurance Corporation, Department of Treasury and multiple financial and Community Development institutions to design programs and provide technical assistance to better reach the disability community. Mr. Foley received his Master's degree from the University of California: Berkeley and earned a JD from Hastings College of the Law. In his spare time, he is a competitive goalball player and ever hopeful Chicago Cubs fan.