By Emerson Sekins, MPA, Executive Director, Northwest Access Fund
My organization, Northwest Access Fund, recently financed some home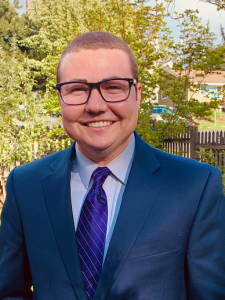 modifications for a family living on the Oregon coast. So many of the stories of our borrowers stick with me, but this family's story stuck out. In particular, because I know that elements of their story reflect the reality of so many other families that live with disability.
In early spring, we received a phone call from Jen who was looking for resources to help her fund modifications to her parents' home to make it more accessible. Jen and her partner Dan, both in their mid-forties, recently moved into Jen's aging parents' home with their two daughters. One of their daughters was born with a developmental disability, which significantly impacted her balance.
Jen's parents, both former schoolteachers, moved out to the Oregon coast after they retired. When they bought their house, they weren't experiencing any disabilities, were very active and, like so many people, didn't consider how they would age in place. Jen's mom, Clare, now in her late seventies, was diagnosed with dementia a few years ago and last year was diagnosed with a significant form of macular degeneration. Jen's dad, Harold, was in his early eighties and had a stroke a few years ago and was now using a wheelchair most of the time to get around, as he was unstable while walking. After Harold's stroke, they completed some initial modifications to the home and purchased other assistive technologies. They built a ramp from the garage to the house, built handrails around their front porch and added grab bars in the shower. They also purchased a wheelchair and moved from a king size bed to two adjustable single beds with handrails. These modifications were funded through a Home Equity Line of Credit (HELOC). While Jen's parents earned a steady income from Social Security and had modest income from their retirement accounts, they didn't have the savings to pay for modifications out of pocket.
After moving in, Jen learned the hard way that many elements of the house were not accessible for her parents and also for her youngest daughter. Jen was determined to have her family live together for as long as possible, but recognized that there needed to be significant changes to the house to make this happen. When Jen called us, she had already done her research and had quotes for the work from a couple of different contractors – it came in just over $27,000. Jen had already looked into state and local government resources and for grant opportunities that may help fund these modifications. She found out what many families do – there are very few programs that fund these kinds of home modifications and the programs often serve only those households with very low incomes.
When searching for a solution to finance these needed changes, Jen told us that she and her parents looked into a personal loan or an extension of their HELOC through their bank, but they did not qualify. The bank denied them due to the fact that they still owed a mortgage on about half the value of the house with the additional HELOC, and they didn't view these home accessibility modifications as adding equity to the value of the home.
Jen and Dan were not in a position to take on the loan themselves. They had just drawn down heavily on their modest savings and put many expenses on a credit card for their move. While Dan was making steady income as a case manager, Jen only just started receiving caregiving income through her parent's long-term care insurance plan in late winter – before that she was unpaid for nearly two years. Much of her income was dedicated to paying down debts and her student loan payments that started up again now that she was receiving income. Rebuilding their savings was proving to be difficult and many months their budget was very tight. Jen contacted us hoping that Northwest Access Fund could be a solution to making these needed home modifications.
As a nonprofit, the mission of Northwest Access Fund is to provide funding to people with disabilities in Washington and Oregon to purchase assistive technology and achieve greater independence. We fulfill our mission primarily through offering low-interest loans to help individuals and families afford the assistive technology, vehicle and home modifications they need to live, work and play in our communities. We primarily work with low-income people and/or people that have been turned down for loans from banks and credit unions due to having high debt-to-income ratios, low or poor credit or variability in their incomes.
With some creative underwriting, we were able to approve the loan to make all the modifications. I recently checked in with Jen to learn how things were going. She said that the modifications have helped to improve their lives enormously and were vital to her parents being able to remain living at home. Jen shared that her dad had recently taken a fall in the renovated shower, but said, "Had we not modified the shower, the fall would likely have broken his neck. The modification saved his life."
The lengths and measures Jen took to have her parents remain living at home are incredible and this is a story we hear often from our clients. We are receiving more and more calls requesting information and resources on funding home modifications. I expect this trend of home modification resource requests to significantly increase as more and more baby boomers acquire various disabilities as they age. This means that more families, like Jen's, will need to figure out how to afford the assistive technology and modifications they need to remain living at home. I am grateful that Northwest Access Fund was in a position to be able to help Jen's family to afford their needed home modifications. Yet, I am reminded that their story is just one of many, and that there is more work to be done to ensure that other families can afford the home modifications they need.
Emerson Sekins joined the staff at Northwest Access Fund in 2013 after graduating with a MPA from the Daniel J. Evans School of Public Policy and Governance. Emerson brings to the Access Fund a strong background in cross-disability organizing and policy analysis, including serving as a co-chair for the Seattle Commission for People with disabilities from 2010-2012. Emerson studied and worked at the University of Washington from 2004 to 2013, graduating with his BA in Disability Studies in 2008, and returning for graduate school in 2010.
For more information on Northwest Access Fund, please visit www.nwaccessfund.org.