By the National Disability Institute Employment Team
Apprenticeship is a proven method to providing employers with sustainable talent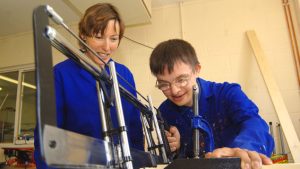 pipelines and providing employees with a solid career pathway built on skilled work-based learning that pays a family-supporting wage from day one. According to the report, "Registered Apprenticeship Programs: Improving the Pipeline for People with Disabilities," completion of a Registered Apprenticeship Program should be considered as a possible option for promoting successful long-term employment outcomes for people with disabilities which pay competitive salaries and carry little or no associated educational debt.
Registered Apprenticeship is an industry-driven, high-quality career pathway where employers can develop and prepare their future workforce, and individuals can obtain paid work experience, receive progressive wage increases, classroom instruction and a portable, nationally-recognized credential. Registered Apprenticeships are industry-vetted and approved and validated by the U.S. Department of Labor (DOL) or a State Apprenticeship Agency. Further, the U.S. DOL has established an aspirational goal that seven percent of individuals enrolled in Registered Apprenticeship Programs should be individuals with disabilities.
In recent years, the apprenticeship model has had a resurgence with attention and financial investment in modernizing and expanding it to include more diversity in apprentices and the scope of apprenticeable occupations. Programs are designed to reflect the communities in which they operate through strong non-discrimination, anti-harassment and recruitment practices to ensure access, equity and inclusion.
Why consider Registered Apprenticeship? People with disabilities are less likely to participate in the labor force (37.5 percent compared to 76.4 percent for non-disabled); more likely to live in poverty (26 percent compared to 11 percent for non-disabled); and less likely to attain post-secondary education (47.2 percent compared to 65.9 percent for non-disabled). Across all racial/ethnic groups, households with a disabled working-age householder have lower net worth, compared to households without disability ($14,180 versus $83,985). Households with householders who are Black and disabled have the lowest net worth ($1,282). Individuals with disabilities, particularly those who are poor, face external barriers to employment: 1) lower educational and skill attainment, 2) complex public benefit rules, 3) limited access to reliable transportation and 4) persistent employer bias.
While federal and other programs are encouraging the participation of people with disabilities in apprenticeship opportunities, all states are increasing their emphasis on increasing apprenticeship opportunities in a greater variety of business sectors. For those that haven't considered apprenticeship as a career strategy before, now is the time to re-evaluate, especially for those job seekers that have identified the career pathway on which they would like to embark. Apprentices start out with a living wage on day one, while they gain skills through on-the-job learning and knowledge through related instruction. At the completion, apprentices will have a transferrable credential, increased earnings and opportunities for promotion and continued growth. There are a wide range of apprenticeship opportunities currently available and, if opportunities are not available in a person's desired career pathway, there are apprenticeship and workforce professionals in most areas of the country prepared to work with businesses to develop apprenticeship programs.
As people with disabilities explore apprenticeship opportunities through the resources noted below, we encourage the following:
Identify if your state has an Apprenticeship Expansion Initiative with a focus on increased engagement of people with disabilities or under-represented populations in their expansion. It will be possible in these states to access increased career support in engaging in apprenticeship opportunities in line with an individual's career objectives.
Reach out to the Vocational Rehabilitation (VR) program in your state for employment assistance and indicate apprenticeship as a desired strategy in meeting an employment objective. In an increasing number of states, the VR program is working more closely with apprenticeship and workforce programs with a focus of increasing apprenticeship as a career strategy for those that they serve.
Apprentices with disabilities are likely to benefit from apprenticeship through:
improved skill levels,
a sense of accomplishment, pride and occupational identity,
increased earnings,
strong attachment to the labor market and
reduced tuition and student debt to pay for education and training.
Learn more about Registered Apprenticeship:
If provided the right information, access, and support, Registered Apprenticeship can open new career pathways for persons with disabilities. It will also assist in bringing in an additional pool of talent for employers that has been traditionally overlooked.