By Sindy Benavides, CEO of the League of United Latin American Citizens (LULAC) and National Disability Institute Board Member
This month we celebrate our heritage, one that is not monolithic, often hard to define, but rich in its diversity and recognizable as a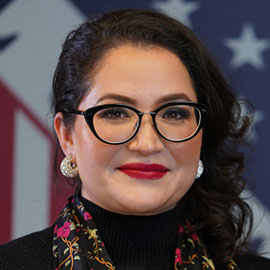 community. Within that shared experience is that of facing challenges and overcoming them with dignity, strength, resilience and our perpetual "si se puede" (Yes, you can!) disposition that many people with disabilities know far too well.
Nonetheless, our community's ability to tell itself "échale ganas" (Go for it!) does not diminish the challenges Latinos with disabilities must overcome. I could offer insight on the stigma our family members with disabilities face within our own community. I could discuss underreporting and underrepresentation of Latinos with disabilities in research, media and healthcare that ultimately contribute to scarcity in resources and barriers to access. I could shed light on the discrimination and violence that is only compounded with a disability that force so many to flee their homeland. But instead, let us focus on the same factor across all these challenges: the need to empower Latinos with disabilities and their families to build a better financial future.
The Latino community is primed for growth and the need to access financial literacy for upward mobility and establish generational wealth is irrefutable. Yet for many Latinos, it is the very hope of greater economic opportunity and freedom from oppression that is at the heart of making life altering decisions – to immigrate, to advocate, to get a degree, to start a business and to care for our loved ones. This is precisely why Latinos have the most to gain from work of National Disability Institute and its commitment to financial literacy and empowerment.
The Biden Administration recently announced an unprecedented national strategy to broaden the range of assistance to support the health and quality of life for individuals as they age or due to a disability or chronic health conditions that require caregiving. Within the Latino community, disability feels like an inevitability as we age and our cultural expectations often put a disproportionate strain on families as caregivers. The administration estimates lost income due to family caregiving at $522 billion each year. Our hope is that the 2022 National Strategy to Support Family Caregivers, and the ongoing advocacy and programming through NDI's Financial Resilience Center, will bring far reaching benefits to Latino families who over-index in at-home caregiving for aging and disabled relatives.
Beyond Hispanic Heritage Month, I ask our leaders and our allies to bear in mind that our community is the fastest aging demographic as well as the youngest. Our families are intergenerational and they are intersectional in their identities. Our community can be as empowered as it is resilient.
At LULAC, we have partnered with National Disability Institute to launch our first ever Latina Entrepreneur Academy cohort aimed specifically at those within our community with disabilities and their networks – because Latinos who are inspired by the pursuit of economic mobility and the American Dream are not divorced from the empowerment of people with disabilities. Ours is also a shared experience, a recognizable community and a familiar story.
Sindy Marisol Benavides is a Honduran-American immigrant who has experienced the American dream and now devotes her career to public service, ensuring that countless young people, women and immigrants have the same opportunity. She is currently Chief Executive Officer for the League of United Latin American Citizens (LULAC), the oldest Hispanic civil rights organization in the country. Ms. Benavides previously served as the Chief Operating Officer and National Director for Civic Engagement and Community Mobilization for LULAC, Vice President of Field & Political Operations for Voto Latino and as Northern Virginia Political Director for the 2012 Kaine for Virginia senatorial campaign. She has also been National Director of Community Outreach for the Democratic National Committee and Latino Liaison and Director of Gubernatorial Appointments for Governor Timothy M. Kaine. Ms. Benavides is the founder, co-founder or founding board member of LULAC Council 4611, VA Latino Higher Education Network (VALHEN), VA Coalition of Immigrant Rights (VACIR) and the Hispanic Organization for Leadership and Action (HOLA).