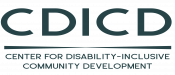 The public comment period is now open for community groups to provide feedback on the historic overhaul of the Community Reinvestment Act (CRA) rules proposed by federal regulators in early May 2022. The CRA is in place to help build up low- and moderate-income (LMI) communities supported by financial institutions. This is an opportunity to advocate for the inclusion of LMI people with disabilities to assure they are included in the modernization of CRA. People with disabilities are disproportionately LMI and FDIC data has documented people with disabilities are more likely than their nondisabled peers to be unbanked, lack access to credit and be low-and moderate income.
National Disability Institute's (NDI) Center for Disability-Inclusive Community Development (CDICD) has drafted sample comment letters to serve as a framework as you craft your own comments to the federal banking regulating agencies. CDICD has put together a high-level analysis of the rules to assure that the disability community is included. This is a critical moment for the disability community and we need to assure it is included in the CRA.
How to Take Action:
Submit comments to the banking regulators that the disability community needs to be included in the revitalization of the Community Reinvestment Act.
The comment period ends on August 5 at 11:59 PM EDT.
Sample Comment Letters:
Short and long sample letters are provided to help your organization submit its comments. Be sure to personalize the letter by including a few sentences within the first paragraph about your organization and why it's important to advance the financial health of adults with disabilities. Add something personal about why including people with disabilities in a bank's responsibilities under CRA is needed.
The comment period ends on August 5 at 11:59 PM EDT.