In this Episode:
Ray Boshara, Director of the Center for Household Financial Stability at the Federal Reserve Bank of St. Louis, joins the program for the inaugural episode of Keys to Financial Inclusion. Ray shares his thoughts on what inclusive community development looks like, and the financial challenges facing families today. Discover how policy makers, regulators, foundations, nonprofits and businesses can work together to promote greater equity and inclusion, particularly as it relates to persons with disabilities.
…inclusion in what programs or policies are actually offered in the first place. That's governments and foundations and others proactively reaching out to people with disabilities and others to include them in the decision making process, but it's also people with disabilities and others running for positions on city councils, advisory boards, et cetera. — Ray Boshara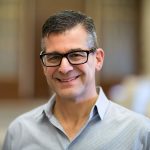 Ray Boshara is Director of the Center for Household Financial Stability at the Federal Reserve Bank of St. Louis. The Center conducts research around family savings, assets and debts. He is also a senior fellow in the Financial Security Program at the Aspen Institute. Before joining the Fed in 2011, Boshara was vice president of New America, a think tank in Washington, D.C., where he launched and directed the Asset Building, Financial Inclusion and Next Social Contract policy programs. He also served as policy director at CFED (Prosperity Now) and on the domestic policy staff of the U.S. House Select Committee on Hunger. Boshara is widely credited with leading the campaign to enact the Assets for Independence Act, which created thousands of Individual Development Accounts throughout the U.S. He also forged Baby Bonds, Roths at Birth and other bills in the U.S. Congress to establish savings accounts for all children. Over the past 25 years, he has advised presidential candidates, as well as the George W. Bush, Clinton, Obama and Trump administrations. He has testified before the U.S. House and Senate several times. Boshara has written for The Washington Post, The New York Times, The Atlantic and the St. Louis Post-Dispatch, among others, and is frequently quoted by local and national media outlets. His book, The Next Progressive Era, co-authored with Phillip Longman, was published in 2009. Raised in Akron, Ohio, Boshara is a graduate of The Ohio State University, Yale Divinity School and the John F. Kennedy School of Government at Harvard.