In this Episode:
Molly Barackman-Eder, Senior Manager, Financial Capability at NeighborWorks America, joins the program for the second episode of Keys to Financial Inclusion. Molly shares her thoughts on what inclusive community development looks like, and the financial challenges facing families today. Discover how policy makers, regulators, foundations, nonprofits and businesses can work together to promote greater equity and inclusion, particularly as it relates to persons with disabilities.
…As far as inclusive community development at NeighborWorks, it really starts with resident leadership, and that includes all residents of the community. NeighborWorks organizations develop resident leaders, they support resident-driven groups, and they make connections for community building activities. And what that results in is skilled and engaged residents, responsive community organizations, and strong community relationships, all of which lead to vibrant communities that reflect an inclusive vision from community members themselves. — Molly Barackman-Eder
About Molly Barackman-Eder: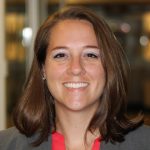 As the Manager, Financial Capability at NeighborWorks America, Molly Barackman-Eder designs, administers and evaluates programs and initiatives for nearly 250 nonprofit organizations across the United States, including the District of Columbia and Puerto Rico. NeighborWorks organizations provide financial capability services integrated with community development and affordable housing activities. The diverse network serves people at every point on the asset-building continuum, helping people stay in their rental residences, purchase homes and achieve other financial goals. Prior to joining NeighborWorks America, Barackman-Eder served as a Financial Wellness Manager at Goodwill Industries International and Staff Assistant for the U.S. Senate Committees on Appropriations and Rules and Administration. She earned her MBA from Georgetown University and BA in International and Comparative Political Science from Western Michigan University.