In this Episode:
Annie Harper, Associate Research Scientist at Yale University, joins the program for the third episode of Keys to Financial Inclusion. Annie shares her thoughts on what inclusive community development looks like, and the financial challenges facing families today. Discover how policy makers, regulators, foundations, nonprofits and businesses can work together to promote greater equity and inclusion, particularly as it relates to persons with disabilities.
…inclusive community development really means development that provides an opportunity for everyone to flourish, however they might define that. I think to reach full community development, we have to pay attention to not just what's happening today, but to historical and also structural, so bigger system injustices. — Annie Harper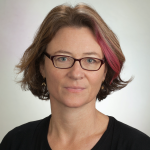 Annie Harper is a cultural anthropologist working as an Associate Research Scientist in the Program for Recovery and Community Health, where she conducts research on poverty, finances and mental illness. She is interested in addressing the social determinants of mental health, focusing in particular on how the financial services and retail industries could better serve low-income people generally, and people with mental illness in particular. Harper works closely with the City of New Haven and the broader community's efforts to provide support to low-income residents struggling with financial difficulties.