In this Episode:
Darlene Goins, Senior Vice President and Head of Financial Health Philanthropy for the Wells Fargo Foundation, joins the program for the sixth episode of Keys to Financial Inclusion. Darlene shares her thoughts on what inclusive community development looks like, and the financial challenges facing families today. Discover how policy makers, regulators, foundations, nonprofits and businesses can work together to promote greater equity and inclusion, particularly as it relates to persons with disabilities.
…Over the past 20 years or so, immense progress has been made in the community development and asset building space. But if we're honest with ourselves, we're really only achieving gains at the margins. Overall trends are worsening, and nothing validates this more than today's wealth gap, which is the issue of our generation. The fact that race, having a disability, community conditions are a predictor of life's outcomes is not only unjustly affecting people's lives today, but it's really setting our country up for socioeconomic crisis tomorrow.— Darlene Goins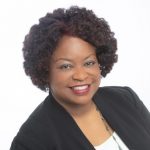 Darlene Goins is senior vice president and head of Financial Health Philanthropy for the Wells Fargo Foundation, one of the largest corporate foundations in the U.S. In 2019, the Wells Fargo Foundation donated $455 million to unlock and accelerate economic opportunity for underserved communities with a strategic focus on housing affordability, small business growth and financial health. Goins is responsible for leading solutions that can empower diverse and vulnerable populations to save money, reduce debt, and build financial stability. She joined Wells Fargo from FICO, where she led a consumer credit score program that earned allocates from the Obama Administration. Goins is based in San Francisco and currently serves on the board of directors for the American Bankers Association Foundation and Jump$tart Coalition for Personal Financial Literacy.
.