In this Episode:
Maria Town, President and CEO of the American Association of People with Disabilities, joins the program for the seventh and final episode of Keys to Financial Inclusion. Maria shares her thoughts on what inclusive community development looks like, and the financial challenges facing families today. Discover how policy makers, regulators, foundations, nonprofits and businesses can work together to promote greater equity and inclusion, particularly as it relates to persons with disabilities.
…Inclusive community development means that there is a mix of communities and resources in that community that meet the needs and desires of people of different income, whether it's a restaurant that serves healthy, but reasonably priced food to a universally designed park where all children, regardless of race or income, can play together, and children with disabilities can play as well as parents and grandparents with disabilities can play with their children.— Maria Town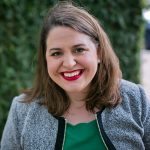 Maria Town is the President and CEO of the American Association of People with Disabilities. In this role, she works to increase the political and economic power of people with disabilities. Prior to this, Town served as the Director of the City of Houston Mayor's Office for People with Disabilities where she advocated for the rights and needs of citizens with disabilities, served as a liaison between the mayor, city council, city departments and other public and private entities on matters pertaining to people with disabilities in Houston, and established local and national partnerships to advance inclusion. Town is the former senior associate director in the Obama White House Office of Public Engagement where she managed the White House's engagement with the disability community and older Americans. She also managed the place-based portfolio and coordinated engagement across Federal agencies. While at the White House, Town hosted an inclusive fashion show that highlighted the efforts of makers and designers to enhance disability integration. Prior to this, Town was a policy advisor at the Department of Labor's Office of Disability Employment Policy (ODEP). While at ODEP, Town led and coordinated numerous efforts to improve employment outcomes for youth and young adults with disabilities. She has particular expertise in areas of youth development and leadership and promoting college and career readiness for all youth. In addition to her disability policy work, Town is the creator of the popular CP Shoes blog where she writes about fashion, design and disability. She was recently named to the Susan Daniel's Disability Mentoring Hall of Fame and to the inaugural class of Emory University's 40 Under 40. She hails from Louisiana, where her family still resides.