National Disability Institute (NDI) Executive Director, Thomas Foley, was the keynote speaker at the National Conference on Special Needs Planning and Special Needs Trusts, hosted by the Stetson University College of Law, in St. Petersburg, Florida, on October 13, 2021.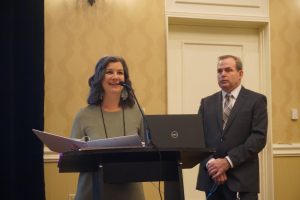 Mr. Foley's presentation, Changing Expectations, touched on the employment, financial empowerment and self-efficacy of people with disabilities. The presentation discussed the current strong job market, where many employers are welcoming applicants with disabilities. Mr. Foley recommended speaking with knowledgeable professionals like the American Dream Employment Network (ADEN) when discussing employment goals and dreams. He also highlighted ABLE National Resource Center and the value of ABLE accounts as a savings tool and gave an overview of NDI's Financial Resilience Center.
Additionally, Mr. Foley shared NDI's leading research, policy and programmatic work at the intersection of Race, Ethnicity, and Disability and Financial Inclusion during the session "Critical Issues in Advocacy That Impact Special Needs Planning for Today's Clients."
Stetson's 2021 National Conference on Special Needs Planning and Special Needs Trusts provides three days of programing with nationally recognized speakers covering the major issues presented in the creation, administration, monitoring and planning of special needs trusts.
Stetson University's College of Law was Florida's first law school and has been educating lawyers, judges and community leaders for more than a century. Stetson strives to be a diverse and selective law school whose faculty and students will have a meaningful and far-reaching impact on the law, the profession and society. Learn more about Stetson at Stetson.edu.