The Americans with Disabilities Act (ADA), passed in 1990, prohibits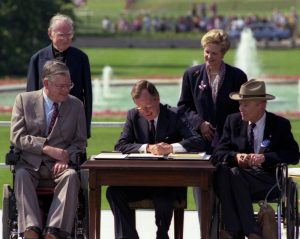 discrimination against individuals with disabilities in all areas of public life. That means schools, jobs, transportation, telecommunications and all public/private places open to the public. The law aims to ensure that all people with disabilities have equality of opportunity, economic self-sufficiency and full participation in American life and independent living in their communities.
July 26th marks the 29th anniversary of the signing of the ADA. To commemorate this historic day, National Disability Institute and Citi Community Development will host a webinar featuring a panel of municipal and national leaders who will discuss the changes that have benefited the disability community most in the last 29 years and what more can be done to fulfill the promise of the ADA of "economic self-sufficiency."
Join us on July 23 from 3:00-4:00 p.m. ET for this engaging and thought provoking webinar. Register for the webinar.
For a list of events commemorating the anniversary of the ADA, including a conversation with Senator Tom Harkin who introduced the ADA legislation in the Senate, visit https://www.adaanniversary.org/events.
NDI envisions a society where people with disabilities have the same opportunities to achieve financial stability and independence as people without disabilities and is committed to building a better financial future for people with disabilities and their families.
Join the conversation on Facebook (@NationalDisability) or on Twitter (@natdisability) by using the hashtag #ADA29.