The official theme of National Disability Employment Awareness Month (NDEAM) this year is "Increasing Access and Opportunity." Marking its 75th year, NDEAM is observed each October to raise awareness about disability employment issues and celebrate the skills and talents of workers with disabilities. This year, however, takes on special significance. As the economy and the country adapt to the COVID-19 pandemic, Increasing Access and Opportunity for workers with disabilities is crucial to building a flexible and diverse workforce that will drive an economic rebound for all Americans.
The Office of Disability Employment Policy (ODEP), at the U.S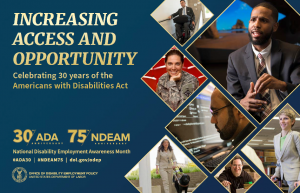 . Department of Labor (DOL) offers a range of resources, including an official poster, to help employers and other organizations such as educators and youth service professionals; state governors, legislators and other policymakers; and disability-related organizations plan NDEAM observances. ODEP also offers NDEAM sample articles, a press release, a proclamation, and social media content.
NDEAM dates back to 1945, when Congress declared the first week in October "National Employ the Physically Handicapped Week." The word "physically" was deleted in 1962 to acknowledge individuals across the spectrum of disabilities. The week was expanded to a month by Congress in 1988 and its name changed to National Disability Employment Awareness Month. When ODEP was created in 2001, it was given responsibility for NDEAM, including the selection of its annual theme.
The theme of "Increasing Access and Opportunity" must continue beyond October. The Department of Labor is sharing Ten Ways to Foster the NDEAM Spirit Year-Round that employers can use to promote a disability-friendly workplace throughout the year. Visit the DOL webpage and learn how to keep the momentum going.