October is National Disability Employment Awareness Month (NDEAM). NDEAM recognizes the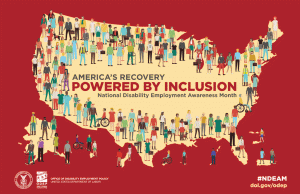 contributions of workers with disabilities. It's the perfect time to educate about the value of an inclusive workplace while highlighting the barriers those individuals often face.
This year's theme, "America's Recovery: Powered by Inclusion," focuses on the part workers with disabilities play in the success of America's economy, and reflects the importance of ensuring that people with disabilities have full access to employment and community involvement during the economic recovery from the COVID-19 pandemic.
In 1945, Congress declared the first week in October "National Employ the Physically Handicapped Week." That week is now a month, so there's more time to celebrate. The Department of Labor's Office of Disability Employment Policy (ODEP) leads NDEAM and encourages businesses and other organizations to plan and share their NDEAM campaigns and events.
The official NDEAM 2021 poster is available in both English and Spanish and can be downloaded from the site. ODEP also offers NDEAM sample articles, a press release, a proclamation, and social media content.
To get started: check out 31 Days of NDEAM and a list of ideas categorized by type of organization: Educators and Youth Services Professionals, Disability-related Organizations, Employers and Employees, and State Governors, Legislators, and Other Policymakers.
National Disability Institute recognizes the importance of NDEAM and encourages everyone to start planning now for ways to celebrate. Check NDI's website for event listings, blogs and observances.