Disability rights advocate and finance pioneer, Susan Tachau, received the 2021 Ned Gramlich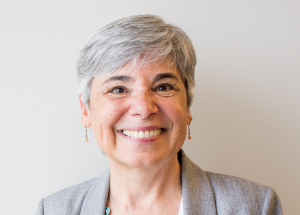 Lifetime Achievement Award for Responsible Finance from Opportunity Finance Network (OFN). Presented annually by OFN, a leading national network of Community Development Financial Institutions (CDFIs), the award is inspired by former Pennsylvania Federal Reserve Governor Ned Gramlich. It is the highest individual honor in the CDFI industry.
Tachau received the award on October 20 during OFN's Annual Conference, is CEO of Pennsylvania Assistive Technology Foundation (PATF), a nonprofit CDFI that helps people with disabilities and older Pennsylvanians acquire vital assistive technology devices and services. Providing financing, education and advocacy, PATF is a resource and champion for the 1.8 million people in Pennsylvania — and millions elsewhere — living with disabilities.
"It is an honor to receive the Gramlich Award for my life's work," said Tachau. "It is expensive to live with a disability and, for people with disabilities, assistive technology is a lifeline — to work, to connection with others, to independence, to the world. Most of our borrowers are low-income and PATF financing and services are transformational. To be recognized by the CDFI community, with its purpose of social, racial and economic justice, says that people with disabilities – who are members of all our communities – matter; that they are seen and included. I am deeply grateful."
Tachau cofounded PATF in 1998 as Pennsylvania's Alternative Financing Program (AFP), as designated by the federal Assistive Technology Act, and it was certified as a CDFI in 2012. Today, the organization enables people to access assistive technology — including adapted vans, wheelchairs, hearing aids, specialized software, adaptive sports equipment, smart-home solutions, and more — with no-fee, zero- and low-interest loans.
Based in King of Prussia, Pennsylvania, PATF also offers comprehensive information about other funding options for assistive technology, as well as financial education through its disability-focused curriculum, Cents and Sensibility: A Guide to Money Management. In January, PATF created a subsidiary, Appalachian Assistive Technology Loan Fund (AATLF), so that it can expand its lending to nearby states.
Tachau has been a National Disability Institute (NDI) Board Member since 2019 and currently serves as its Board Treasurer.