November is National Family Caregivers (NFC) Month, a t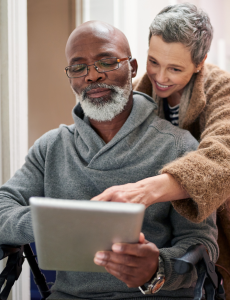 ime to recognize and honor those millions of family caregivers across the country. In 1997, President Clinton signed the first NFC Month Presidential Proclamation. Following his lead, every president since has issued an annual proclamation recognizing and honoring family caregivers each November.
Caregiver Action Network (CAN), a nonprofit organization working to improve the quality of life for those who care for loved ones with "chronic conditions, disabilities, disease or the frailties of old age," provides education, resources and peer support to family caregivers free of charge. CAN also chooses the theme each year for National Family Caregivers Month. This year's theme, #BeCareCurious, encourages caregivers to ask questions, explore options and share in the care decisions that affect their loved ones.
Mental Health America (MHA) reports that there are more than 60 million Americans who are unpaid caregivers to family, friends and neighbors. According to a 2015 study by AARP and the National Alliance on Caregiving, more than a third of those caregivers were ages 50-64, a quarter were 35-49 and another quarter were 18-34.
One in five caregivers help someone with a mental illness, according to MHA. And to break down the numbers further, 45 percent of caregivers for adults with mental illness are parents, 14 percent adult children and 11 percent spouses.
National Disability Institute (NDI) supports the efforts of organizations recognizing, celebrating and supporting family caregivers, and we invite you to explore these resources for more information:
Mental Health America's 2019 Family Caregivers Toolkit helps caregivers strengthen relationships with loved ones with mental illness. Included in the toolkit are fact sheets on goal setting, treatment supports, preparing for an appointment, treatment options, HIPAA Privacy Rule; crisis plan worksheet; sample social media post language and shareable images; drop-in article for newsletters; and more. Visit https://mhanational.org/get-involved/download-2019-family-caregivers-toolkit.
Caregiveraction.org features materials for download, including the 2019 Presidential Proclamation; a PDF of the theme (#BeCareCurious); an NFC Social Media Kit; and background on NFC Month. Visit https://caregiveraction.org/national-family-caregivers-month.
AARP.org offers resources caregivers should know, including where to find services and support. Visit https://www.aarp.org/caregiving/local/info-2017/important-resources-for-caregivers.html?intcmp=Outbrain&obref=obnetwork.