Houston Coalition on the Intersection of Disability, Race, Ethnicity and Poverty
Mission statement: 
To address the systemic challenges people with disabilities in BIPOC communities face as a result of their intersecting identities.
About the Houston Coalition
Black, Indigenous and People of Color (BIPOC) Americans with disabilities face unique systemic challenges as a result of their intersecting identities. The goal of the Coalition is to have conversations on intersectionality and break down the unintentional silos that can impede potential holistic practical solutions to the complex economic challenges faced by individuals of color with a disability by promoting an ecosystem of collaboration between key stakeholder groups, organizations serving individuals with a disability, organizations offering financial empowerment services and organizations serving communities of color.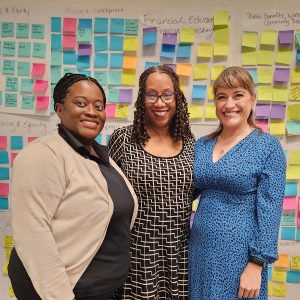 Schirell Sidney
Senior Manager, THRIVE
United Way Greater Houston
Carmela A. Walker, MPA
CSJE – Center for Social Justice Education
Program Coordinator and Advocacy Specialist
Houston Area Urban League, Inc.
Lucia Romano
Supervising Attorney
Disability Rights Texas
Join the Houston Coalition on the Intersection of Race, Disability, Ethnicity and Poverty to address barriers to financial stability and financial resilience which contribute to the significant wealth gap faced by these communities.
After completing this form, you will receive a calendar invitation to participate in upcoming monthly coalition calls scheduled for every 4th Thursday of the month 1pmCST via zoom.
HOW TO BE DISABILITY INCLUSIVE WEBINAR
Recorded February 23, 2023 – Noon-1:30pm ET
This webinar presented by National Disability Institute, provides a high-level introduction to being more disability inclusive for community service providers who want to ensure services and programs are equitably accessible to persons with disabilities. It will help you and your colleagues:
Become familiar with different definitions and types of disabilities;
Become familiar with language and etiquette that stimulates meaningful, empowering interactions with your customers;
Raise awareness and provide practical tips to communicate and interact more effectively and more comfortably; and
Touch on ways to ask the Disability Question comfortably and effectively.
 This webinar is intended for front-line staff, counselors and administrative staff working for community-based organizations and financial institution staff in Detroit, Michigan; Pittsburgh, Pennsylvania; and Houston, Texas and will be available through May 31, 2023. Presenters are Katie Metz and Brittany Thome with National Disability Institute.
ASL and captions are available to view in the recording.
On December 1, 2022, National Disability Institute led a resource mapping event in Houston with the Houston Coalition. This event brought together community partners and organizations in the 4th largest city in the U.S. to address financial stability challenges at the intersection of race, ethnicity and disability. Resource mapping helps identify essential partnerships and tools that support individuals and their financial well-being.
Information, resources, and partnerships identified during the session are being compiled and will be available soon.
Participants and coalition members can find downloadable resources shared during the event by visiting this resource folder. If you have resources you would like to have included to share with other members of the coalition please send them to NDI for upload in this shared resource folder by emailing your accessible documents to kmetz@ndi-inc.org.
To learn more about next steps and the strategic plan being built for utilizing the information gathered at this event join the Houston Coalition on the Intersection of Race, Disability, Ethnicity and Poverty.
Download the Houston Equity Ally Badge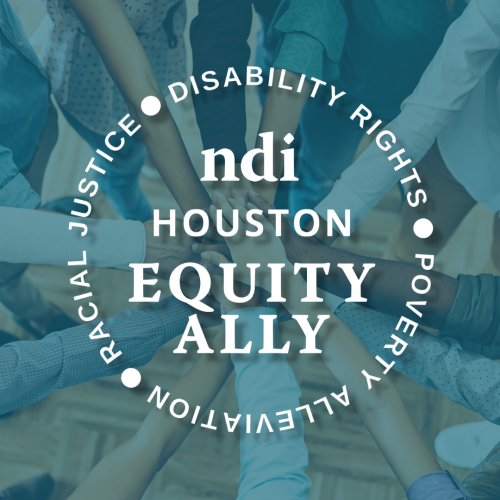 Participants and coalition members can use this badge for a variety of organizational materials, including in social media graphics, newsletters, blog posts, PowerPoint presentations and website pages (or site footers). For additional guidance, read these instructions.
Houston Regional Roundtable
Addressing Financial Stability Challenges at the Intersection of Race, Ethnicity, Poverty and Disability – November 18, 2021
The goal of the Roundtable held on November 18, 2021 was twofold: (1) to bring together community nonprofit and other organizations working on economic and racial equity, with disability and financial inclusion partners in the Houston area and (2) to identify and begin work on action plans and concrete steps those organizations could jointly take to address some of the barriers to financial stability and financial resilience that contribute to the significant wealth gap faced by BIPOC communities with disability.
Resources shared during the Roundtable discussions: