By Mira Bhattacharya – Public Policy Fellow, National Disability Institute
This month is Attention Deficit Hyperactivity Disorder (ADHD) Awareness Month and National Disability Employment Awareness Month (NDEAM). ADHD is one of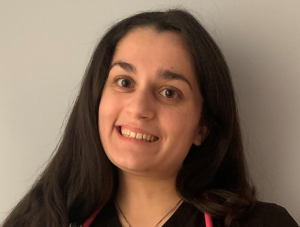 many conditions that fall under the umbrella of neurodiversity. This is because neurodiversity doesn't implicate any specific diagnosis although ADHD, autism spectrum disorder (ASD) and dyslexia are some of the most common diagnoses associated with neurodiversity.
Beginning in my preschool days, I struggled with feelings of restlessness, impulsivity and anxiety. I was disruptive, hardly ever sat still and would not wait to answer questions. In preschool and up, through and including third grade, I received special education services, such as having a special education itinerant teacher, speech therapy and placement in an integrated co-teaching classroom setting. At the end of third grade, my mother chose to decertify me from all special education services and also declined the time-and-a-half testing accommodation that I qualified for and was offered throughout elementary school, leading me to feel ashamed of my disability. Years later, as a college junior, I began receiving help for ADHD, sensory processing disorder (SPD) and have since come to embrace my neurodiversity.
At the time of receiving my ADHD diagnosis, I was struggling to keep up both socially and academically and have since continuously worked through these challenges. Furthermore, this experience has shown me the value of fostering neurodiversity acceptance in my work in healthcare and public health.
Exact numbers of neurodivergent individuals working in healthcare and public health (i.e., public health analysts, physicians, physician assistants (PAs), etc.) remains unknown and existing studies on neurodiversity in the medical field are largely qualitative and solely ASD focused. Despite this, there are many potential benefits of having neurodivergent individuals work in the medical field. Below are some anecdotal examples:
Doctor Benacerraf, a radiologist with dyslexia, says that, as a dyslexic, she thinks much faster and more creatively, and that being a big-picture rather than a detail-oriented person benefits her patients.
ADHDers often thrive in high-stress situations which means many work well in hospital emergency rooms.
Adherence to routine and repetitive behaviors, key ASD traits, can help autistic individuals to thrive as anesthetists since these professionals deal with one patient at a time, sequentially, in a procedure-based and solution-focused manner.
I have fought against ableism in academia through living as an openly disabled individual, working to empower disabled prePAs and educating others about the importance of supporting disabled students in their journeys to becoming PAs. For example, I have posted on Instagram about how my passion for wanting to learn about and work in multiple specialties (e.g., public health policy and palliative care) which relates to my thirst for novelty, a trait associated with ADHD, aligns strongly with the lateral mobility conferred by the PA profession.
Accommodations are a powerful tool as they can help to make healthcare and public health a more welcoming place for neurodivergent people to work and thrive. Personally, as an EMT I found that being given an extension to submit patient care reports was extremely helpful as it helped me to focus on direct patient care and filter out loud noises and intense sounds. As a public health intern, my boss provided me with written feedback so I didn't have to rely on my faulty working memory. Over the past several months, I have had the incredible privilege and pleasure of being a National Disability Institute (NDI) Fellow. At NDI, I feel welcomed, well accommodated and embraced as a neurodivergent person rather than having to 'mask' part of my identity. Each accommodation and open conversation remind me of how much I look forward to becoming a PA who helps other neurodivergent individuals feel welcome in public health and policy, as well as in medicine broadly.
Mira Bhattacharya is a public policy fellow at NDI. She is biracial and identified as a disabled and neurodivergent individual. Mira is an incoming physician assistant student at the Franklin Pierce Hybrid PA Program and a recent graduate of Fordham University where she majored in psychology, minored in disability studies and bioethics. Mira aims to increase access to healthcare for individuals from underserved communities, including those who are disabled, and enjoys learning about policy initiatives that will mitigate the health disparities that individuals with disabilities and other marginalized identities experience. When not working, she can be found doing jigsaw puzzles, listening to audiobooks and attending musicals.