Multiple studies show that we are more likely to talk about the loss of a loved one or our own mortality than about our personal finances. However, avoiding the topic prevents us from taking control of our finances. To highlight National Financial Capability Month, we created a blog series that feature personal stories and experiences that we hope will help eliminate the stigma of talking about our personal finances.
By Dawn Welters, QPMH, M.A., Ph.D.
What was your worst financial decision/choice and what was the lesson learned?
The worst financial decision I made was when I was a college freshman. I kept getting credit card offers in the mail. Of course, they were tempting as someone with no job prospects, just entering independency and wanting to buy nice things on my own. My mom had previously added me to her credit card as an authorized user when I was a minor so I had pretty decent credit history despite only being 18. Well, naturally, being the irresponsible teen that I was, I ran all the cards up to the tune of more than $10,000 of debt. I ended up filing for bankruptcy by the age of 20 because I could not keep up with the payments even after I found a part-time job. The lesson learned was spending wisely and only spending what I could afford to pay back on any credit card to keep the balance or total use of all cards under 30 percent. I also learned about comparison shopping for one card that has the best benefits rather than multiple cards with high interest rates and different benefits.
What would you tell your younger self about managing money?
I would definitely tell my younger self about the importance of saving money (at least 10-15 percent per paycheck into a high interest bearing account. Something that isn't as accessible as a savings account at a bank (like a CD or money market). This would have been especially helpful for my adult years (now) when I want to travel or for paying for my wedding. I would have a lot more money saved now than I currently do had I started earlier, but, when I first began working in middle school, I wasn't thinking about the future. I would also tell myself about the importance of saving and cutting corners wherever you can— using coupons and app benefits to shop at the grocery store, gas station, etc. Now even when I buy groceries I always prepare and plan before I go, making sure I buy brands that are on sale, looking for discounted items (usually those that are expiring soon, but haven't yet) or using apps to get cash back on my purchases (Ebates, Swagbucks, etc). This year alone, I have earned over $400 on cash back alone from everyday necessity purchases.
What is the best money tip or advice that you have received?
The best money advice/tip I have ever received was actually two things: 1. Never lend what you can't afford to lose and 2. the 30 percent rule. That first tip has stuck with me and oftentimes   proved to be true. And really can be applied to more than just spending money. It simply means not to give out money you don't have as extra cash if you can't afford it or if never being paid back will cause you hardship. The second tip relates to several things: your savings should always be 30 percent of your annual of living expenses, your living expenses shouldn't exceed 30 percent of your monthly income, and never hold more than 30 percent debt to income ratio. That way, if you lose your job, you are able to continue living without hardship for at least four months while you find a new job or prepare to downsize. If your living expenses are only 30 percent of your income that leaves you plenty of money to save, invest, prep for a rainy day and enjoy life. Having 30 percent or less debt to income helps keep your credit score in good standing for when you want to open lines of credit for personal or business, or you want to make a big purchase like a house or vehicle.
Who set you on your path to learn positive money habits?
When I was looking to purchase a home, one of the pre-qualifications for qualifying for grants and USDA loans was to take a financial literacy course. That class taught me so much. It should really be a requirement for high school graduation. I learned things about credit that I never knew. I learned about how to save and about various types of loan and credit and how they impact you. There was just so much information gained from the course that wasn't only applicable to purchasing a home, but everyday living. I walked away with something that made it worth attending.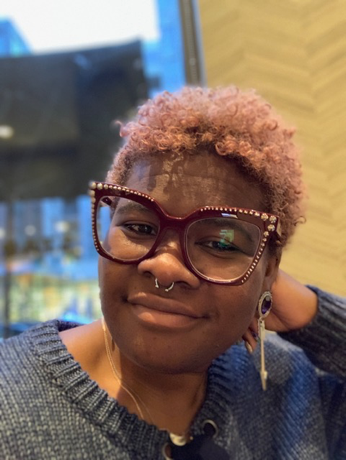 My name is Dawn Welters. I am Deaf. I am a graduate of Gallaudet University and currently completing my PhD dissertation. I reside in Washington, D.C. where I teach MS/HS students Deaf Education and American Sign Language. I have been a teacher and outreach for 10 years work. One of my favorite classes to teach is Math and Life Skills and teaching students the importance of financial responsibility, independent living and real-world application to what they learn during class. All things I wish I had learned when I was in school.
Sign-up for the Real Economic Network Today at: https://www.nationaldisabilityinstitute.org/capacity-building/partnerships/