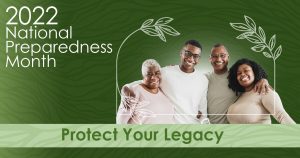 September is National Preparedness Month, which raises awareness about the importance of being ready for disasters and potential emergencies and the resources available to help. This year, Ready.gov, an official website of the U.S. Department of Homeland Security (DHS), reminds all that lives built are worth protecting and that preparing for disasters can help create a lasting family legacy.
Planning for an emergency begins with good communication with your family and others. This Plan Form is intended to help families reconnect if separated. It consists of optional fields for entering household and medical information, as well as meeting place locations that family members can reference when disasters strike. It is one of many Low and No Cost Preparedness steps families can take to gain peace of mind. Knowing which emergencies are most common where you live, signing up for alerts in your area to receive life-saving information from your state and local municipality and/or the FEMA App and storing important documents in safe, water-tight plastic bags, are strategies that cost very little now, but can spare or mitigate the expensive impacts of an unexpected disaster later.
While these tips are practical, planning for the unique needs of a person with a disability makes considering individual circumstances and needs to effectively prepare for emergencies and disasters crucial. Making a plan for Individuals with Disabilities may mean planning for accessible transportation, knowing the availability and locations of multiple medical treatment facilities, having access to electronic health records from a variety of sources, and signing up for direct deposit or a prepaid debit card to continue to safely receive federal benefits.
National Disability Institute (NDI)'s Financial Resilience Center also offers updated tools and resources to help people with disabilities and their families become financially prepared before, during and after an emergency. Financial resilience is the ability to bounce back through difficult times, emerge stronger on the other side and flourish in the "new normal." Financial Resilience Center resources include answers to frequently asked questions around housing and food, healthcare and how to navigate through difficult times, unemployment Insurance, accommodations and more that can help people with disabilities understand how to deal with emergencies and the aftermath of disasters financially.
For more information about National Preparedness Month, visit Ready.gov and learn how you can help your family prepare for the unexpected and/or Get Involved to help your community before, during and after a disaster or emergency.