The U.S. is facing a pandemic that continues to upend our daily routines and the ways we interact with our community and loved ones, all while an unprecedented hurricane season and devastating wildfires are tragically impacting many parts of the country. As September begins, so, too, does National Preparedness Month, which raises awareness about the importance of being ready for disasters and potential emergencies and the resources available to help.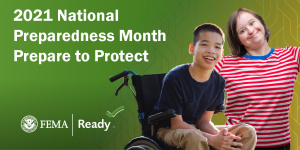 Ready.gov, an official website of the U.S. Department of Homeland Security (DHS), outlines steps for financial preparedness, which can assist with the long-term challenges and financial setbacks faced by many after an emergency. These events often have the most devastating impacts on low-income communities, including people with disabilities. The Federal Emergency Management Agency (FEMA)'s Emergency Financial First Aid Kit includes checklists and forms for gathering and organizing critical financial and medical information. For people living with a disability, this may include insurance cards and information on Social Security benefits. One way to prepare for disruptions is to ensure access to information and tools offered by the Social Security Administration by signing up for an online my Social Security Account. The account can be used to request a replacement Social Security card, estimate and manage benefits and check on an application any time.
While these tips are practical, planning for the unique needs of a person with a disability after a disaster requires a holistic approach that recognizes that the disability community faces barriers that hinder full participation in their communities, including access to employment and financial services, which can make managing the uncertainty of an emergency much more difficult.
National Disability Institute (NDI) offers resources to help people with disabilities become financially prepared before, during and after an emergency with tools and resources available through the Financial Resilience Center. Financial resilience is the ability to bounce back through difficult times, emerge stronger on the other side and flourish in the "new normal." Financial Resilience Center resources include answers to frequently asked questions around housing and food, affordable health insurance, managing money and more that can help people with disabilities and their families understand how to deal with the current COVID-19 pandemic and other emergencies financially.
The full theme for the National Preparedness is "Prepare to Protect. Preparing for disasters is protecting everyone you love." The theme serves as a reminder that one person's level of preparedness can impact others. Explore volunteer opportunities to help your community through National Voluntary Organizations Active in Disasters (NVOAD). Access trainings, including FEMA's You Are the Help Until Help Arrives for steps you can take to save lives until the arrival of a professional, and certifications, like the Join a Community Emergency Response Team (CERT) program to learn basic disaster response skills, medical operations and more. These and more resources to assist your community can be found on the Get Involved page at Ready.gov.
For more information about National Preparedness Month, visit Ready.gov and learn about the risk of disasters where you live and explore what can be done to insure against them.
NDI collaborates with hundreds of organizations throughout the country to empower people with disabilities and their families to build a better financial future. Learn more about Who We Are.